Forms Management
The system is capable of interoperability with
SISTRI
since 2011. The previous Legislative Decree concerning environmental regulations in effect since 29 April 2006, in implementation of Delegated Act 308/2004, has therefore been superseded.
SISTRI
revolutionises waste management systems, eliminating the need to manage loading and unloading records. The new regulations that accompany the debut of
SISTRI
allows for further simplification, thusly expanding the possibilities for Trade Organisations or their service companies in the management of such requirements. Classic computerised solutions are not suited to geographic network management; thus, it is natural to expect that an application involving a central service provider can reach users, providing the solution to a specific problem without having to worry about the user's computer equipment if it does not require the availability of a recent "web browser" (which are now available for any user connected to the Internet). Therefore, this is not to offer information with limited user assistance online , but rather, to deliver a service with an interactivity comparable to classical systems, which is now made possible using new recently made available techniques. The proposed system was developed by leveraging new WEB 2.0 technologies that make the service useful, with a level of interaction and the usual control of management programmes in the local network, but with the added advantage of being usable on the Internet.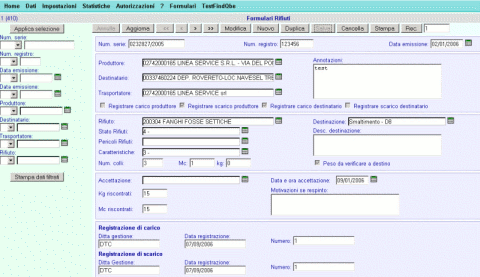 Functional specifications:
Formulari MUD (Italian Environmental declaration forms) procedures allow centralised management of problems inherent in the management of wastewater treatment plants:
Access to procedures with different login credentials for each operator and user; user profiles differentiated based on roles.
Entry of data provided in SISTRI.
Synchronisation of master data from SISTRI to the management
Management of Subjects, Sites, and Transporters' files unified with management of data visibility based on the user's profile (the user of a company does not see the master data of other Subjects except by entering the data by providing the Tax Code)
Selection list populated based on previously used information (Subjects, Sites, Transporters, and Waste), or a complete list with search filters that dynamically narrow down the list being viewed
Management of editable data based on the user's profile and according to regulations; referential integrity of data in DBMS.
Registration and visualisation of changes made on any document with record of operator, date, time, and values before and after the change was made.
Printing of Loading and Unloading Records (until the end of the transition period to SISTRI).
Reporting of deadlines connected to the operator and/or e-mail (exceeding of amounts, expiration of authorisation, printing of records, and Modello Unico di Dichiarazione Ambientale (Italian Environmental Declaration Form) compilation until the completion of the transition to SISTRI).
Generation of annual statements and related attachments containing processed data, for the Subjects that are responsible for the presentation (Modello Unico di Dichiarazione Ambientale - Italian Environmental Declaration Form).
Compliance with current regulations on Privacy in the management of "accounts" and in general, on the entire application (subject and transporters' master data).
HTTPS downloading and uploading of forms in XML format.
Digital signing of forms summaries
Technical specifications:
Linux server operating system (application certified on Linux Debian Sarge, or Linux SuSE Linux 8.x).
Postgres Database versions 8.0+
SSL Apache Server versions 2.0+
Internet Explorer 7.0+, Firefox 3.0+ client browser certificate
Printing in PDF or Postscript format.