Bolzano Technology Fair
Leader.IT participated at the
Technology Fair
in Bolzano from October 6-8, 2006, at the
Consorzio Innovazione Tecnologica
(Technological Innovation Consortium) stand.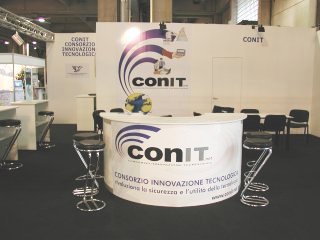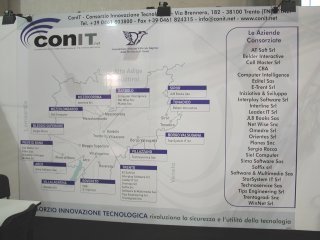 View the
photo report
.
The scheduled events:
---
Friday, October 6: ''Palcofiera Technology - Product Presentation'' at 1 PM
''SmsMeteo - Meteorological precipitation data analysis and alarm system''
Guido Brugnara -
Leader.IT
Markus Neteler -
(GDF Hannover) - (Leader.IT Partner)
Roberto Torresani -
Leader.IT
SmsMeteo
is a good example of collaboration between companies such as Leader.IT and GDF-Hannover, specialising respectively in Web20/AJAX, and GIS (Grass) to respond to the requests of public entities for an innovative solution developed using Open Source tools, but also available to the community with a free licence (in this case, GPL). As part of the FORALPS project (
http://www.unitn.it/foralps/
), the Trento Meteorological Service has commissioned the development of an application for SMS and e-mail alerts by analysing data provided by radar and doppler effect in a way that can be able to determine the level of precipitation, the presence of thunderstorms and hail subdivided in specific areas (for example, such as areas with high risk of landslides); alerting different users depending on the area and the calculation model specified. The system designed thusly will be made available to the entire international community. The system will be discussed at the meeting, as well as the technologies that were used (GRASS, Linux, Apache, Mason, Perl, and PostgreSQL). The event will be presented in Italian and in German.
---
Saturday, October 7th - ''Technology Life'' Congress at 5 PM
''Web 2.0/Ajax: Not just online PC''
Guido Brugnara -
Leader.IT Srl (Event in Italian language)
---
Sabato 7 ottobre - Congresso ''Technology Life'' ore 17:00
... together with
Cooperativa Computer Learning
, presenting
"The Interactive Whiteboard"
:
OpenClassroom : Class Management System C.M.S.
Roberto Torresani -
Leader.IT
OpenClassroom
is a system provided by Leader.IT for the management of computer labs in school. The product was made over the course of years thanks to the collaboration between CFP and UPT
(Centro Formazione Professionale - Universitą Popolare Trentina)
becoming a competitive product with multiple features, such as:
web interface for management of student, teacher, and class master data
management of classes with composition of students and teachers
automated management of folders on server available to students, teachers, and classes
control access to schools and to internet, controllable by one teacher
black & white list for school internet access and for every single class